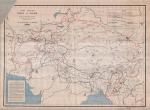 Land routes, India to China
Return to Metadata RecordMap or Series Date:
1942
Scale:
1:400,000
Creator:
United States. Board of Economic Warfare, United States. Office of Strategic Services. Research and Analysis Branch
Description:
Board of Economic Warfare, Blockade and Supply Branch, Project No. UN-6 ; drawn in R. and A., O.S.S.
A-1903-0.
Map no. 889, Nov. 20, 1942.
Relief shown by spot heights.
Geographic Coverage: Shows routes in Western and central China, Northern Burma, Northern India, Baluchistan, Afghanistan, Eastern Iran, and the Southern edge of Asian U.S.S.R.
Download files:
(
filter list of files
)
| | | | | |
| --- | --- | --- | --- | --- |
| 1 | | TRANSPORTATION | Map | ZOOMIFY |
| 2 | | TRANSPORTATION | Map | JPEG |
| 3 | | TRANSPORTATION | Map | PDF |
edit
Return to Metadata Record
---
For further information and help, click on one of the links above, call us at 416.978.5589, or contact us. Our address is 130 St. George street, Toronto, ON M5S 1A5