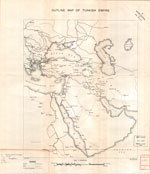 Maps from Sir Archibald Murray's despatches
Return to Metadata RecordMap or Series Date:
1917-1920
Scale:
varies
Creator:
Geographical Section, General Staff
Description:
out of copyright. Included as part of Murray's Despatches: http://go.utlib.ca/cat/522789. 4 topographic maps, showing settlements, boundaries, roads, railways, physical features and points of interest. Elevation shown by contours, hachures and spot heights on maps 2-4.
1. Outline map of Turkish Empire
2. Egypt
3. Sinai Peninsula: Suez-Port Said
4. Syria: Jerusalem and Rafa
Download files:
(
filter list of files
)
| | | | | |
| --- | --- | --- | --- | --- |
| 1 | | TOPOGRAPHY | Map 1 | ZOOMIFY |
| 2 | | TOPOGRAPHY | Map 1 | JPEG |
| 3 | | TOPOGRAPHY | Map 1 | PDF |
| 4 | | TOPOGRAPHY | Map 2 | ZOOMIFY |
| 5 | | TOPOGRAPHY | Map 2 | JPEG |
| 6 | | TOPOGRAPHY | Map 2 | PDF |
| 7 | | TOPOGRAPHY | Map 3 | ZOOMIFY |
| 8 | | TOPOGRAPHY | Map 3 | JPEG |
| 9 | | TOPOGRAPHY | Map 3 | PDF |
| 10 | | TOPOGRAPHY | Map 4 | ZOOMIFY |
| 11 | | TOPOGRAPHY | Map 4 | JPEG |
| 12 | | TOPOGRAPHY | Map 4 | PDF |
edit
Return to Metadata Record
---
For further information and help, click on one of the links above, call us at 416.978.5589, or contact us. Our address is 130 St. George street, Toronto, ON M5S 1A5