Points of Interest > Castle Frank
Castle Frank was the name of the summer residence of John Graves Simcoe, Lieutenant-Governor of Upper Canada, his wife Elizabeth Simcoe and their children. Named for the Simcoe's then five-year old son Francis, in whose name the patent for the land was made, Castle Frank was more modest in structure than its name implies.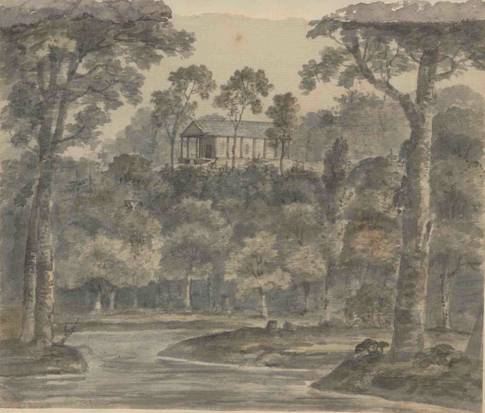 Elizabeth Simcoe, (1766-1850), Castle Frank, 1796, (detail), Archives of Ontario, I0006352
The Simcoes arrived in the town of York in August 1793 and the construction of Castle Frank began the following spring. Elizabeth noted in her diary September 29th, 1793: "The Governor having determined to take a Lot of 200 acres upon the River Donn for Francis, & the Law obliges persons having Lots of land to build a House upon them within the year we went today to fix upon the spot for building his House." "We went 6 miles by water & landed," she writes in a later entry, "climbed up an exceeding steep hill or rather a series of sugar loafed Hills & approved of the highest spot from where we looked down on the tops of large trees…. The height of the situation will secure us from mosquitoes"(October 29, 1794).

The site of Castle Frank, on a steep promontory overlooking the Don Valley. Elizabeth Simcoe, July 20, 1796. Archives of Ontario, I0007090.
Situated on a steep hill overlooking the Don Valley, the thirty by fifty foot house was constructed of clapboarded pine logs. With the trunks of four peeled pines forming a columned façade, the house was "built on the plan of a Grecian Temple"(Elizabeth Simcoe, Diary Entry, January 23, 1796). The interior of the house was rough and never fully completed, but its large, open room was the scene of numerous social occasions during the Simcoes' three year sojourn. Elizabeth used Castle Frank as a country retreat, going up the Don by sleigh in winter or through the woods in summer for picnics and parties.
When the Simcoes returned to England in 1796, Castle Frank was still under construction. After their departure, the cottage was used as a temporary home by Simcoe's replacement, Peter Russell (Administrator of the colony during Simcoe's leave of absence); the property was later managed by Simcoe's former secretary, John Scadding. Simcoe would never return to Upper Canada; nor would Francis, who was killed in action in Spain in April 1812, return to claim his estate. Castle Frank burned to the ground in 1829, reputedly at the hands of some careless fishermen. In the years that followed, the Simcoes sold all of their landholdings in Upper Canada.
Many years later, Toronto MP and businessman Sir Edward Kemp built a second, twenty-four-room Castle Frank, north of the original site. It was demolished in 1962 to make way for the Rosedale Heights Secondary School.
Text: Jennifer Bonnell

Sources
Archives of Ontario. "Travels with Elizabeth Simcoe: A Visual Journey through Upper and Lower Canada. http://www.archives.gov.on.ca/english/on-line-exhibits/simcoe/index.aspx
Historical Narratives of Early Canada: John Graves Simcoe. http://www.uppercanadahistory.ca/simcoe/simcoe1.html
Innis, Mary Quayle, ed. Mrs. Simcoe's Diary. Toronto: Macmillan 1965.
Lundell, Liz. The Estates of Old Toronto. Erin, Ont.: Boston Mills Press, 1997.
Robertson, John Ross. Robertson's Landmarks of Toronto: A Collection of Historical Sketches of the OldTown of York from 1792 until 1833, and of Toronto from 1834 to 1893. Toronto: J. Ross Robertson, 1894.