Points of Interest > Toronto Rolling Mills
The extension of the Grand Trunk Railway along the waterfront from the east end of the city in 1856 stimulated demands for industrial development in the area around the mouth of the Don. Railway demands for heavy metal products such as rails and rolling stock also brought a new kind of industry to the area around the mouth of the Don. Just a year after the GTR extended its lines along the Toronto waterfront, engineer Casimir Gzowski established the Toronto Rolling Mills on the southwest corner of Mill Street and the former Water Street (between today's Cherry and Overend Streets). The first plant in the Canadas to produce iron rails, the company re-rolled the worn rails from the Toronto to Montreal section of the GTR. High temperature metal processing meant huge consumption of imported American coal: each year, the plant burned 16-20,000 tons of coal to fuel a 300 horsepower steam engine that drove rails and two thirty-two ton steam hammers. To put this figure in perspective: in 1865, the plant consumed more coal than the rest of the city combined. By 1867, the mills had expanded to occupy several acres east of Cherry Street; 300 men, largely from the neighbouring Irish immigrant community of Corktown, laboured in the mills producing 20,000 tons of rails annually. Technological changes and depression in the 1870s, however, reduced the demand for iron rails. Failing to convert to steel production, the Toronto Rolling Mills closed in 1874 and the buildings were demolished.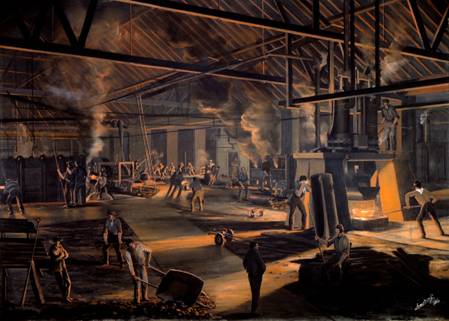 Armstrong, William (1822-1914), Toronto Rolling Mills, Interior, 1864. Toronto Public Library, Canadian Historical Picture Collection, J. Ross Robertson Collection. Reproduced from the Toronto Public Library website http://www.torontopubliclibrary.ca.
Text: Jennifer Bonnell
Sources
The Daily Globe 12 February 1866; 24 January 1867.
Toronto Historical Association. A Glimpse of Toronto's history: Opportunities for the Commemoration of Lost Historic Sites (Toronto: Toronto Historical Association and the Maps Project, City of Toronto Urban Development Services, 2002), MPLS # 182.