Points of Interest >
Taylor Brothers' Upper Mill
In 1846, the Taylor Brothers constructed a paper mill adjacent to their saw and grist mills on the west branch of the Don, just north of the Forks. Later named the "Upper Mill" in relation to the Brothers' two other paper mills on the Don—the Middle Mill north of Pottery Road (constructed in 1858) and the Lower Mill at Todmorden (constructed in 1827 and purchased by the Taylor Brothers in 1855)—the mill was built with encouragement from newspaper owner George Brown, who sought a local supply of newsprint for The Globe. Brown had a paper-making machine shipped from Edinburgh and installed at the mill.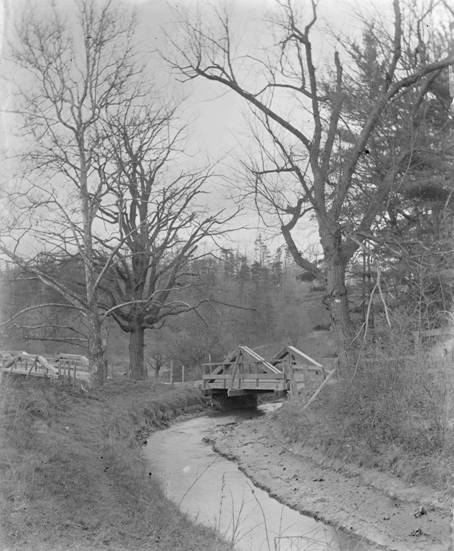 Mill race on the Don River, Taylor Brothers Paper Mill, c.1909. Don Valley Glass Plate Negatives, Archives of Ontario, C 317-1-0-1-7. Note: this image depicts the mill race at Todmorden (the Taylor Brothers' Lower Mill) but it is a useful representation of mill races in the Don Valley.
By 1867, the Upper Mill was run by a shift of about ten men. Most paper was made from rags; the best from linen. Here, homespun wool and cotton were mixed with straw and jute and cooked with soda and lime, then washed, drained, pressed and dried to produce products ranging from newsprint to manila wrapping. By 1877 all three Taylor mills were operating six days a week around the clock, supplying goods "to all parts of the Dominion."
In the 1880s and 1890s the company's business began to decline, likely due to a combination of technological reasons and competition from Quebec firms which used wood-pulp. The Upper Mill was sold within the family in 1886, and closed in 1890.
Text: Jennifer Bonnell and Lost Rivers
Sources
Dictionary of Canadian Biography Online. "John Taylor (1809-1871)." http://www.biographi.ca/009004-119.01-e.php?&id_nbr=5286&&PHPSESSID=ychzfqkvzape, accessed 1 May 2009.
Guthrie, Ann. Don Valley Legacy: A Pioneer History. Erin, Ontario: Boston Mills Press, 1986.
Timberlake, J., comp. Illustrated Toronto Past and Present; being an historical and descriptive guide-book…. Toronto: P.A. Gross, 1877.